Welcome to the seaside village of Breiðdalsvík
Population 139
Situated in the secluded beauty of Iceland's East Fjords, we offer adventurous spirits a refreshing escape along the road less traveled. Surrounded by majestic mountains and black sand seascapes, you feel at one with nature. Hike along ancient volcanos, pick berries in enchanting Jórvíkurskógur Forest, or track herds of wild reindeer – all without seeing another soul. We invite you to experience our genuine small-town hospitality, fresh regional cuisine, and authentic local color found on every corner.
This is Breiðdalsvík, where the destination is worth the journey.
THE HOTEL
Hótel Bláfell
Hotel Bláfell is a tranquil oasis amid the rugged beauty of Breiðdalsvík.
Enjoy rustic ambiance in a comfortable setting ideal for exploring the surrounding wildlife and wilderness.

THE HOTEL
Hótel Póst
Check out the basic but charming Hotel Post with its 8 rooms, ideal for small groups and/or families. Available in categories: single, double, twin, triple and family rooms. It features free Wi-Fi and fresh rooms with a flat-screen satellite TV and private bathroom. All rooms have simple décor, wooden floors and a work desk.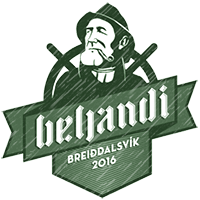 THE BREWERY
Beljandi
Breiðdalsvík is the home of the craft brewery Beljandi.
The brewery has been operating since 2017
and usually offers 4-5 types of beer.
THE OLD GENERAL STORE
Kaupfjelagið
Journey back in time at The Old General Store (Kaupfjélagið) in Breiðdalsvík. Built in 1956, it's a friendly place to stop for a coffee, shop for local merchandise and remember simpler days gone by.
THE OLD FISH FACTORY
Frystihúsið
A unique and authentically Icelandic event venue located in a fish factory. Modern facilities meet dramatic ocean views in a refreshing space that celebrates local heritage. THE MAP
Iceland by Axel
The exhibition about Axel Helgason is an interesting saga of a man who was an idealist who focused on his interests. His conquests consisted solely of implementing his ideas. In 1934 he made his first embroidered model of Iceland and is presented in the old Fish Factory in Breiðdalsvík.